Stute Foods Launch New Range of 1 Litre Juice Drinks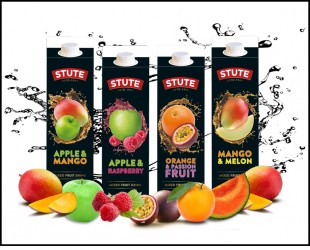 Stute Foods, the Bristol based food and drink manufacturer has announced the launch of a new range of 1 litre juice drinks.
The range of 4 new varieties are available immediately and include Apple & Mango, Orange & Passion Fruit, Apple & Raspberry and Mango & Melon. The launch adds to an already impressive portfolio of jams, juices and spreads the company already offers.
Part of Stute's brief was to produce a range of mixed fruit drinks that are low in sugar. The drinks all contain less than 5% sugar which allows them to be exempt from the Government's impending Sugar Tax on soft drinks. Stute have worked hard to develop recipes that contain no preservatives, artificial colours or flavours.
Laurence Hybs, Managing Director at Stute Foods said: "We're thrilled to announce the launch of our new range. It has taken us over a year to develop the new flavours and we believe they will be a fantastic success both in the UK and internationally. Our new range is filled into striking carton designs which will allow the products to really stand out on the shelves."
Stute Foods celebrates its 50th anniversary next year has further product launches in the pipeline over the next 12 months as they look to further strengthen their position in the market.